Flor de Cobre is a copper porphyry located in the Southern Peru Copper Belt, 45 km south of Arequipa. Some of the world's largest copper-molybdenum porphyry deposits and mines including Cerro Verde (Freeport), Cuajone, Toquepala (Southern Copper), and Quellaveco (Anglo/Mitsubishi) reside in the Southern Peru Copper Belt.
Flor de Cobre is located ~30 km southeast of the large copper mine at Cerro Verde and ~7 km northwest of the Chapi copper mine.
The Flor de Cobre property includes two copper porphyry targets: (1) Candelaria, a copper prospect identified in the 1930's and the site of a historical small-scale mining operation, and (2) Atravesado, a large 1.5 km x 1.6km area.
In 2022, E29 completed a drill program that validated data from historical drilling on the Candelaria supergene copper enrichment zone and included testing of primary copper sulphide mineralization at depth. The successful 4,500-metre, twelve-hole drill program exceeded our expectations and will allow us to incorporate the historical data into a planned initial Mineral Resource Estimate to update a historic copper resource estimate. Highlights of the Candelaria drill program include drillhole FDC001 intersecting 349 metres of 0.77% copper from 78 metres below surface, including 123 metres of enrichment mineralization grading 1.42% copper overlying 226 metres of primary mineralization grading 0.42% copper.
E29 continues to advance permitting for our large, untested Atravesado porphyry zone (over 1.5 by 2.5 km) on the Flor de Cobre project. Atravesado is a very exciting target in this prolific belt, especially given its large size and its location just 26 km southeast of Freeport's large Cerro Verde copper mine (the world's fifth largest copper mine). It has never had any direct drilling and has abundant copper mineralization at surface and a coincident geophysical signature.
On September 7, 2022 Element 29 releases final results from Flor de Cobre drill program, including 329.4 metres of 0.56% copper
On June 6, 2022 Element 29 Completes Validation Of Flor De Cobre Historical Drilling And Will Proceed With Mineral Resource Estimation
On June 1, 2022 Element 29 further confirms past drill results used in historical copper resource estimate at Flor de Cobre
On April 19, 2022 Element 29 drills 349.0 metres of 0.77% copper including 12.0 metres of 1.42% copper as enrichment at Flor de Cobre
On February 3, 2022 Element 29 commences drilling at its Flor de Cobre Copper Project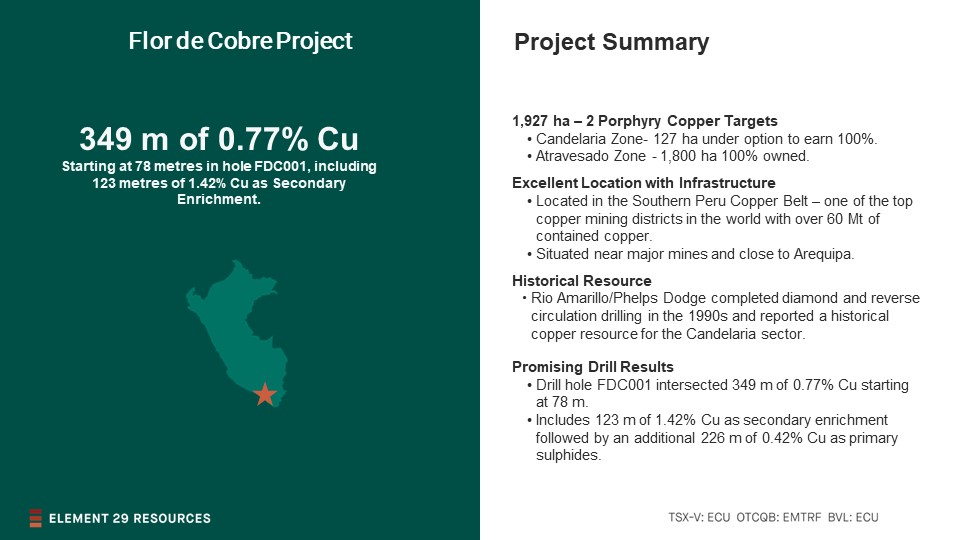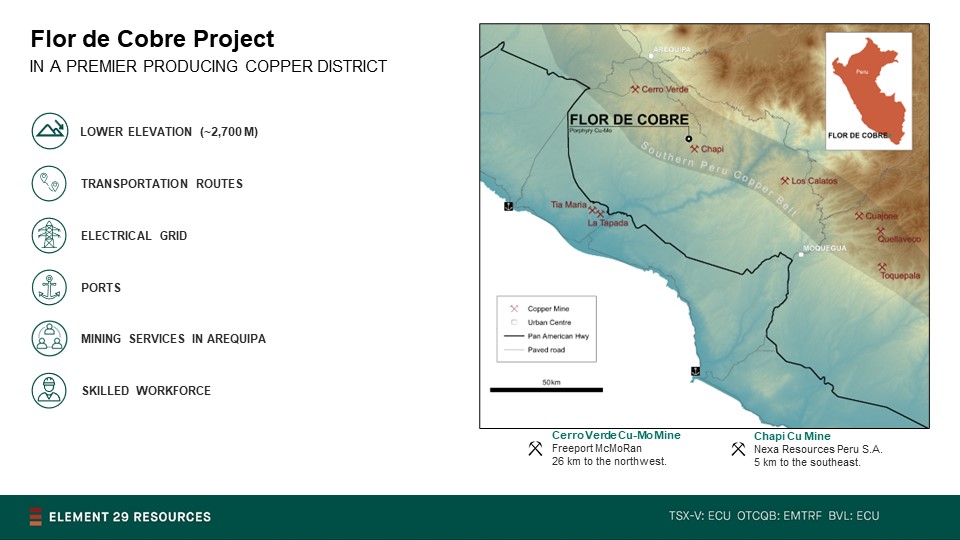 * The source of the historical resource estimate is a press release issued by Rio Amarillo Mining Ltd. dated November 15, 1996 (Rio Amarillo Mining Ltd., November 15th, 1996: Aija Property Drill Results). This historical resource is relevant to Flor de Cobre as it suggests supergene-enriched mineralization of interest may be present at Candelaria. The parameters, assumptions, and methods used to calculate the historical estimate are unknown. Additionally, the historical estimate does not use resource categories described in CIM Definition Standards for Mineral Resources and Mineral Reserves (2014). It is also unclear what portion of this historical resource estimate is within the current Flor de Cobre property configuration. A qualified person has not done sufficient work to classify the historical estimate as a current mineral resource, and it is unclear what work might be required to confirm the resource. For these reasons, the historical resource should not be relied upon. The Company is not treating the historical estimate as a current mineral resource.